Czar's Promise 2022 - Three Priceless Reasons Why. Czar. Baby Bear Osa. Tundra.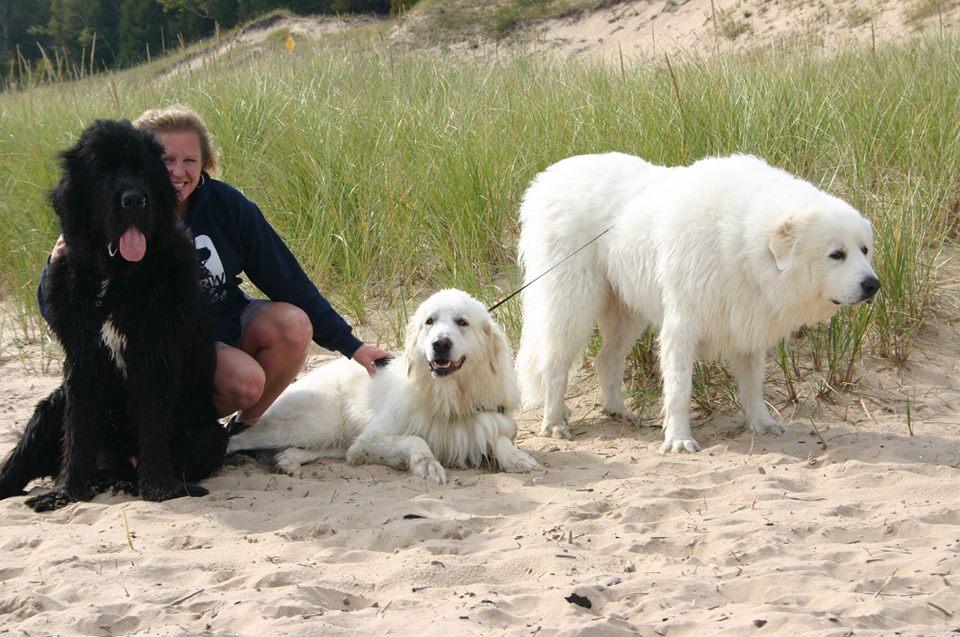 Three Beautiful Reasons Why.
Czar. Osa. Tundra. Sharing years of time along the sand dunes of Door County, provided countless memories of great joy, peace and bonding like no other. Czar, Osa and Tundra, were all raised together, with each having their distinct role within the Viney pack during their time here on earth. Czar, the consummate protector, loyal guardian, animal assisted therapy dog, lover of children, humans and all creatures great and small. Osa, the humor in life, the carefree, comical, big Baby Bear Osa, whose love of the sand, sky, water and truly everything in life was unparralleled. And Madam Tundra, the queen whose wisdom, teachings and pack leadership, along with her sweet as honey charm and graceful elegance, captivated all those who met her.
Bonded in life, and now at the rainbow bridge, with each of their extraordinary lives ending due to a heartbreaking cancer diagnosis. Czar, Osteosarcoma in 2013 (bone cancer), Baby Bear Osa, Hemangiosarcoma in 2015, and Tundra, Osteosarcoma in 2019. Thier journey, which we walked together hand in paw, is an education in life which you never hope you have to receive, but when you do, you find and do ANYTHING and EVERYTHING to ensure of their quality of life, their comfort, and peace at the time of their transition.
On December 20, 2013, when Czar's eyes gave the look of, "OK mom, it's time. I am tired, and I hurt. And the pain medication isn't working any more. It's OK to let me go".....it was then that I told him that I Promised, that a way would be found to help others who had experienced a cancer journey as he did, and ensure some of their burdens be lifted so their energy, time and love could be focused on their best friend. And I made that SAME Promise to Baby Bear Osa and Tundra...and is one I will always keep.
And in February, 2018, that Promise became a reality, when other compassionate, loving humans who traveled this same path, came together with the identical mission.....and Czar's Promise was born.
It is my purpose in life. To continue the mission of Czar's Promise, and to work each day with families whose dogs and cats are facing a path which they did not choose to travel. To be a resource for education. Emotional support. Financial assistance. And to provide understanding of the emotional, logistical and financial challenges which they face. And to let them know......we care. A cure....someday it will happen. But it is only through commitments to ongoing research that this will be made possible, and our partnership with the UW School of Veterinary Medicine and American Family Children's Hospital and our grant funding efforts for companion animal and pediatric cancer, research, that we will continue to move the research effort forward.
Thank you, for taking the time to read my story. Thank you, for all the support shown for Czar's Promise and those we serve. Thank you, in advance for any gift you may wish to provide to support the direct impact Czar's Promise has on on the quality of life for canines and felines in their cancer fight and our commitment to local research efforts. Thank you, for giving a gift to enhance the quality of life for these companion animals who are so loved by their families, and for giving the gift of time......You. Make. A. Difference.
Inspirng Hope.
Funding Research.
This is Czar's Promise.
Beth