Beth Viney - Czar's Promise 2020 Inspiring Hope Dog Walk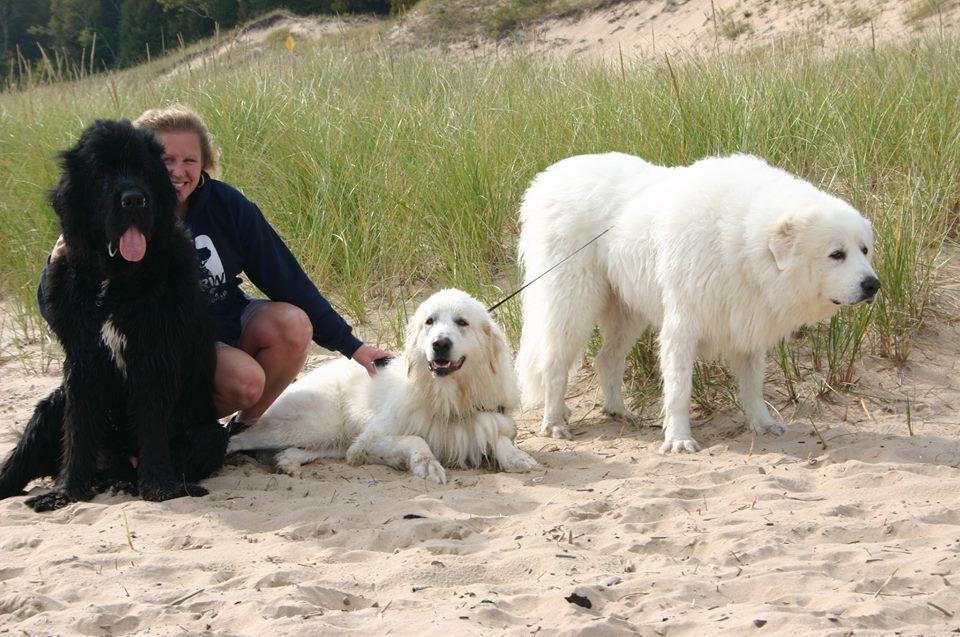 The sweetest of times! Whitefish Dunes State Park, 2010. Sun, surf, sand, water, blue sky, and the trio of Czar, Baby Bear Osa and Tundra. The core pack, who grew up together, loved, played, laughed, worked. All three, capturing, stealing and wrapping up this heart, one Pyr and Newf paw at a time. They lived and loved together, and now today, all share time, space and continue to shine light, from beyond the rainbow. And each, stolen from this earth and my arms, from the same ugly disease, cancer.
Czar, my one-in a million, diagnosed with bone cancer in 2012, who continued to live an extraordinary life for 19 months before passing away in December, 2013. Baby Bear Osa, my heart and soul, cruely taken without warning on February 12, 2015 of evil and horrific hemangiosarcoma. And beautiful Tundra, passing away just last November 25, 2019, after a 72 day battle with bone cancer.
It is because of each of them. And now, because of each of the companion animals served by Czar's Promise, that I continue this fight. It is to honor the Promise that I made to Czar as he took his last breath in 2013, that I would find a way to help other families whose companion animals had been diagnosed with cancer, and to help find a new treatment, a new protocol or someday a CURE for cancer in companion animals and children in our community.
Czar's Promise began, has evolved, and continues to grow today, because of support from each of you. From those in our community who have embraced those who face this extrordinarily difficult path, and who understand the need for emotional support, education, guidance, and financial resources, to help ease the pain of facing cancer in our canine and feline companions.
In 2020, COVID19 has made caring for companion animals with cancer even more challenging. This year, Czar's Promise and the families and research which it supports, needs your help more than ever. I cannot begin to find the words to express unending gratitude to EACH of you who has made such a difference. Your time, advice, guidance, your giving.
This year, I dedicate the 2020 Czar's Promise Inspiring Hope Virtual Dog Walk, to my forever soul sister Tundra. Baby girl, your loss is felt every minute of every day in our home, our hearts, and with Amara and Lucciano. Lost without you my llama doll....
Inspiring Hope. Funding Research.
This is Czar's Promise.